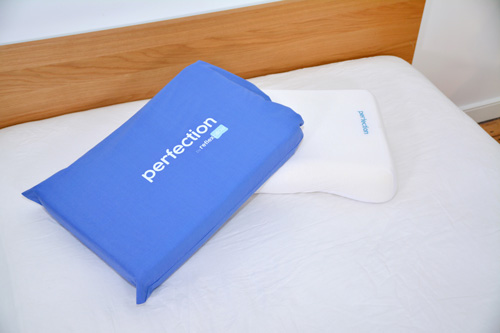 After a really successful Kickstarter campaign the new Perfection Pillow will be available online at the beginning of September. Perfection Pillow has all the benefits of the original, complemented by improved cushioning and support. The pillow is patented and medically certified and protected with a luxurious zippered pillowcase. Also in the range are silk pillowcases and a handy travel bag
We've been hearing some really kind reviews of our original pillow from many happy customers everyday and some of them have even sent us video testimonials.
Here is a link to more videos on the Reflex Pillow experience.
To get 50% off your next purchase and be in with a chance to win the new and improved Perfection Pillow we'd like you to send us a short video about your experience of Reflex Pillow.
Just record yourself on your phone telling us about your experience with Reflex Pillow and how it has changed your sleep. Everyone who sends in a video will get 50% off Perfection Pillow and one lucky person will win a FREE PILLOW worth €89. 
Please keep your video to 30 seconds or so
Video HORIZONTALLY please
Email to reflexpillowmktg@gmail.com Or send via Twitter DM or Facebook Messenger