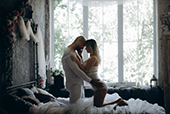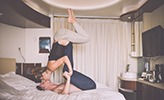 "Who knew it was even possible to fall in LOVE with a pillow? I certainly didn't. I've absolutely no idea how it does what it does but it makes sleep better. Always. It's as simple as that" – Conor Pope, Consumer Correspondent with The Irish Times
Sharing a bed with a significant other can be one of the nicest things about being in a relationship but this intimacy can lead to some negative side-effects.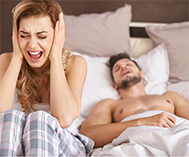 Did you know that one in five couples name their partner as the biggest thing interrupting their sleep at night? Whether it's hogging the duvet, snoring or tossing and turning; if you are being kept awake by your partner at night, this can result in crankiness and resentment in the relationship- the last thing you want, especially in the runup to Valentine's Day!
[title style="center" text="PERFECTION PILLOW CAN HELP!"]
There is a way to remedy your sleep time woes and restore the harmony to your bedroom making sure you are loved up in time for Valentine's Day.
The Reflex Pillow and its latest version "Perfection" have been changing people's sleep all over the world. Its unique structure and patented design will help eradicate snoring, neck pain and insomnia.
You can read in more detail how the pillow works here but don't take our word for it- couples and individuals have been telling us how much they LOVE their pillow!
Check out what they have to say below!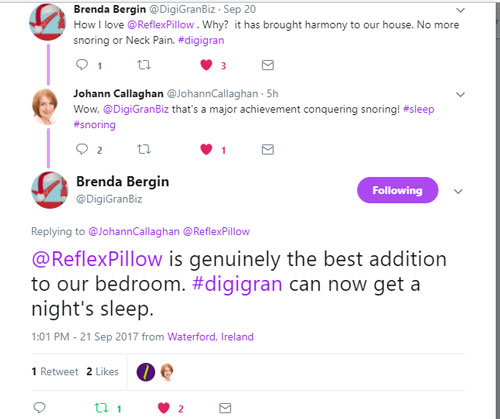 Brenda Bergin (@DigiGran Biz) claims the pillow "has brought harmony to her bedroom by eliminating snoring and neck pain."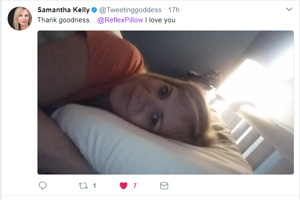 Founder of the Women's Inspire Network and the Tweeting Goddess herself Samantha Kelly, who certainly knows the value of a good night's sleep in order to be productive, is a firm advocate of Reflex Pillow as is her new husband!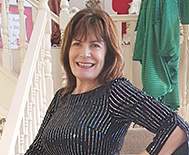 "What I love is how the pillow hugs and supports your head….I am buying a pillow for my husband, the wonderful Graham, who on occasion snores. That's how much I love the REFLEX pillow and HIM"
– Hilda Smith from "Over the Hilda" blog.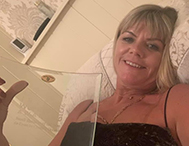 Janette O'Rourke of Kays Flower School (recent winners of the Best Small Business at the Women's Awards) and her husband have seen a big difference in their bedroom comfort since buying the pillow.
"I love to cuddle my head into the dip in the pillow and the shoulder slot helps me sleep close to the pillow. I have definitely noticed an improvement in my sleep and my neck since purchasing this pillow and my husband has also found that the depth of the pillow is just the right height and the support for his back is just perfect and his quality of sleep has improved! He wouldn't get in the photo but this is me last night after winning an award and relaxing back on the bed after a hard night of partying! I would highly recommend these pillow to anyone who suffered neck or back problems"
Stephanie Cox and her boyfriend from the UK also loves the Reflex Pillow


Get 15% OFF your perfection pillow this weekend using discount15 at checkout
[button text="BUY NOW" style="primary" size="xlarge" link="https://www.reflexpillow.com/shop/"]
[block id="pillow-talk2″]