Anti Headroll
On the top side of the pillow, two head dips are divided by a central ridge. This keeps your spine aligned while preventing head roll while you sleep. The dips also serve to position your head at a slight tilt which naturally improves air circulation as you breathe.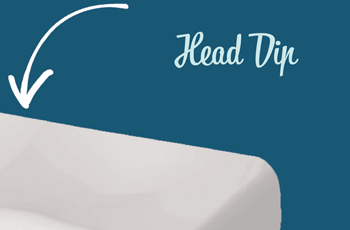 Head Dip
This pillow is rectangular in shape with a flat base but what sets it apart from other pillows are the two head dips (hollows) on the top side. These head dips are for those who lie on their sides. The unique design of this pillow positions your head in a slight tilt and thus your air passages in a naturally open position. This means your breathing will be normal or less obstructed thus delivering a more refreshed sleep.
Neck Support
This pillow has been designed to position your spine in its correct alignment while you sleep, preventing stress and strain of your neck and shoulder muscles. While your mattress may support your lower spine, your upper spine (neck area) needs even more support as this is the area where most soft tissue and muscle damage occurs. It maintains the upper part of your body in the correct alignment position during the whole night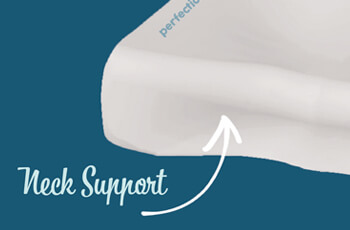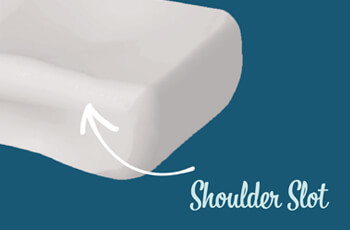 Shoulder Slot
The front side of the pillow has a shoulder slot and neck support which is designed to fit your shoulder thus creating a cradle for your neck. This improves blood circulation and redistributes your body weight to help prevent stiffness.
Perfection Pillow is manufactured using Reflex Foam, developed especially for Perfection Pillow. A specially formulated foam with open cell properties, the foam serves to keep the head cool at night.
Perfection Pillow can help with sleep apnea, snoring and insomnia. By positioning your head in a slight tilt so that your air passages remain open naturally, airway obstruction is limited, allowing you to breathe normally.
Perfection Pillow also can eliminate and/or prevent tossing and turning. The stability of the head dip, whether you're lying on your back or sides, ensures that you're less likely to toss and turn during the night.
Product Specifications
Patented and certified medical device
Breathable and anti-odour
Non-toxic and no bromide materials
New and improved reflex foam
100% Polyester, Inside Cover
100% Organic Cotton, Drawstring Case